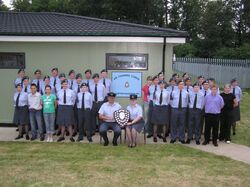 51 (Orton) Squadron is a squadron of the Air Training Corps, based in Peterborough, Cambridgeshire.
Command Structure
Edit
The squadron is part of Bedfordshire and Cambridgeshire wing along with twenty-nine other squadrons.
Parade Nights
Edit
The squadron parades between 19:00 and 21:15 every Tuesday and Wednesday night in premises.
Ad blocker interference detected!
Wikia is a free-to-use site that makes money from advertising. We have a modified experience for viewers using ad blockers

Wikia is not accessible if you've made further modifications. Remove the custom ad blocker rule(s) and the page will load as expected.