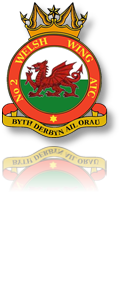 Welcome to No2 Welsh Wing Air Training Corps, part of Wales & West region.
Click on the link to take you to the new No 2 Welsh Wing Air Training Corps Website.
[1] www.no2welshwing.org - All new website for 2011
Headquarters No 2 Welsh Wing TA Centre Station Road Queensferry Flintshire CH5 2TE
Tel: 01244 846380 www.no2welshwing.org
Wing Commander J Goggin RAFVR(T) Officer Commanding
The Air Cadets is a youth organisation who accepts all aged from13 to 18. For an adventure of a life time come along to your nearest squadron hand have a look.
What we can offer to you in No 2 Welsh Wing
Flying D of E Helping within your own community Overseas Annual camps such as Cyprus, Germany and many more Internation Aircadet Exchange Scheme Target shooting Fieldcraft Expeditions
And much more.