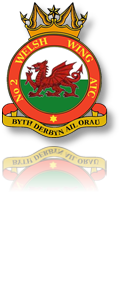 Welcome to No2 Welsh Wing Air Training Corps, part of Wales & West region.
Click on the link to take you to the new No 2 Welsh Wing Air Training Corps Website.
[1] www.no2welshwing.org - All new website for 2011
Headquarters No 2 Welsh Wing TA Centre Station Road Queensferry Flintshire CH5 2TE
Tel: 01244 846380 www.no2welshwing.org
Wing Commander J Goggin RAFVR(T) Officer Commanding
The Air Cadets is a youth organisation who accepts all aged from13 to 18. For an adventure of a life time come along to your nearest squadron hand have a look.
What we can offer to you in No 2 Welsh Wing
Flying D of E Helping within your own community Overseas Annual camps such as Cyprus, Germany and many more Internation Aircadet Exchange Scheme Target shooting Fieldcraft Expeditions
And much more.
Ad blocker interference detected!
Wikia is a free-to-use site that makes money from advertising. We have a modified experience for viewers using ad blockers

Wikia is not accessible if you've made further modifications. Remove the custom ad blocker rule(s) and the page will load as expected.